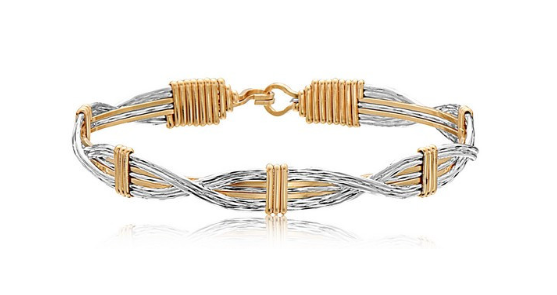 Sands of Time Bracelet
$ 165.00
Hourglass shapes flow around this bracelet to remind us to take advantage of every second we have. Time continuously flows so live life to the fullest! 
*Part of the proceeds go to the American Cancer Society
14K Gold Artist Wire & Silver with Silver X's
To determine your wrist size, take a cloth measuring tape and measure your wrist.  Add 1/2 inch to that measurement.  Ronaldo bracelets all come with a hook & eye closure.  They are meant to fit closer to the wrist than a traditional bangle.  Wearing your Ronaldo bracelet too large will cause it to pop open.  If you are unsure of your size, you can always stop by the store and let us help you find your perfect fit!